There was a popular country song from the early 1990's that spoke volumes of truth. The great prophet Garth Brooks shared this wisdom that will last through the ages:
"Some of God's greatest gifts are unanswered prayer."
At the risk of veering off on an avenue I don't want to go into today, Biblically speaking, I believe God answers every prayer; just sometimes the answer isn't what we want.
But there's no doubt that a couple of years back, as Jameis Winston and family were teetering in their decision on whether to end up in Tuscaloosa or Tallahassee, there were a lot of prayers going up. A lot.
The kid was wanted; no doubt about it. A 2013 season in the spotlight and a Heisman Trophy suggest those prayers were well-founded. Winston scored a lot of touchdowns, won a lot of football games, and brought FSU their first taste of significance in what was beginning to feel like ages.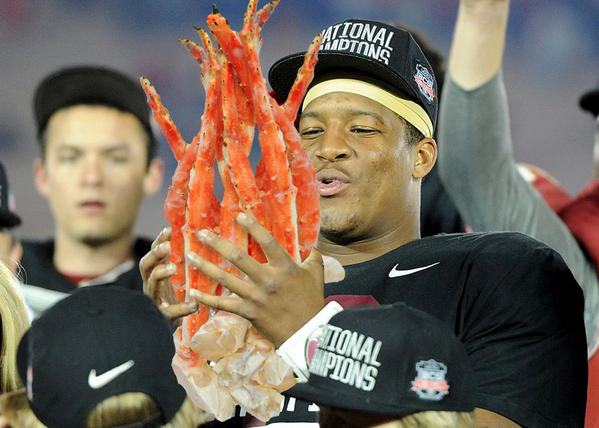 But now here we are. Jameis once again has been playing footsie with that old nemesis called "trouble."
Since arriving at FSU in 2012 there have been "incidents," we'll just call them. Once police spoke to him about windows being shot out with BB guns. on another occasion a local Burger King accused him of stealing soda – Jameis kept helping himself to soft drink refills even though employees told him to stop.
Then there was the sexual assault case…a kangaroo police job where the local state's attorney blasted local authorities for botching the investigation. Just last month the New York Times reported that another FSU student sought counseling after a sexual encounter with Winston (but did not pursue charges. At least not yet.).
And now there's this. Jameis Winston stealing roughly $32 worth of crab legs from a Publix Supermarket. You just can't make this stuff up.
Yes, it seems the pride of Hueytown, Alabama is just one magnificent prize. Unfortunately, it's not uncommon for kids Winston's age to get into trouble, but the relative regularity with which the reigning Heisman Trophy winner is drawing headlines for all the wrong reasons is starting to become alarming.
Somewhere Johnny Manziel is saying, "Dude, you need to simmer down."
There are schools and fanbases that will sell their souls for a taste of the rare air Alabama has earned for so long, even if it costs them their dignity and integrity. The drive to "be somebody" leads you to adopt immature behavior and obvious cheating as okay. We're looking at you Auburn. But now the Tigers have a classmate.
Free Seafood University comes out looking mighty bad in this deal, as the kid Bama once wanted continues to expose the Seminoles' "just win baby" intent. The only downside? Waiting for the narcissistic Winston to do something else.
But one thing is for sure; he WILL do something else. And once again, this guy's prayers will be answered…correctly.

(Follow ITK on Twitter for Bama news, commentary and smack.)