The rich keep getting richer, as Alabama head coach Nick Saban continues to find top talent across the land not afraid to compete with the best.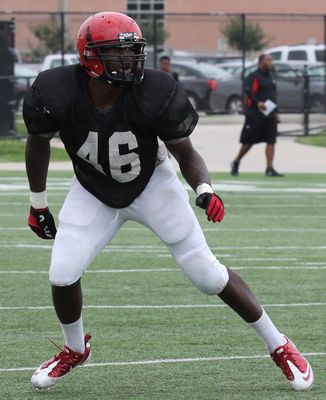 Friday blue-chip linebacker Zach Whitley of Galena Park-North Shore, Texas committed to coach Saban. The 6-2½, 220-pound Whitley is considered one of the nation's top linebackers for the 2014 class, and is the #5 linebacker in America according to Rivals.
Whitley spurned nearby Texas A&M and Kevin Sumlin in favor of a team that has had more than one good season in 30 years, and becomes the fifth defensive player to commit to the Tide's 2014 signing class. Whitley chose Bama also over Texas and Oklahoma.
Three of Whitley's high school coaches were at LSU when Saban and strength coach Scott Cochran were there, so familiarity may have played a factor. Also, Tide receiver DeAndrew White is a former Galena Park-North Shore product.
In addition to Whitley, the Tide has landed a commitment from another linebacker, two corners and a safety, as well as monster running back Bo Scarborough.
Shaun Dion Hamilton of Montgomery-Carver High School is the Tide's other linebacker commitment to this point. A self-proclaimed Auburn fan growing up, Hamilton projects as a middle linebacker joining Whitley and Tide incoming freshman Reuben Foster in the future. Hamilton committed to Alabama in mid-April.
Again strong relationships played a key in his recruitment, and when momma was sold, he was too. Said Hamilton after his visit to Bama this spring:
"My mom fell in love with Coach Saban. She had nothing but good things to say about him. That's when I realized that it was Alabama. When my mom got on board with Alabama, I knew that it was the place for me. I was sold."
Former Bama cornerback and 1st round draft pick Dee Milliner, a childhood friend, surprised Hamilton by attending his commitment ceremony.
"Dee and I have been real good friends growing up. My brother and Dee used to play ball together when they were young. I've always looked up to Dee."
Kalvaraz Bessent, a 5'11" 170-pound cornerback from Camden County High in Kingsland, Georgia joined the 2014 class in March. The immediate need in Tuscaloosa is corner, and Bessent opted for Bama over offers from Auburn, Florida, FSU, Georgia, Ole Miss, Mississippi State, Ohio State and Tennessee.
Bessent is joined by fellow corner Stephen Roberts. The 6'1″, 182-pound standout cornerback who grew up 10 minutes from Auburn (in Opelika), was attracted to Alabama by, you guessed it, championships, and Alabama head coach Nick Saban.
Both future Bama corners were attracted by the number of defensive backs Saban and company have placed in the draft. Alabama has placed four defensive backs in the NFL's first round in the last five years.
Kingsland-Camden County, Georgia safety Chris Williams committed to Alabama over a whittled-down list that included FSU, Ohio State and Ole Miss. Williams is a teammate of Kalvarez Bessent, with the kind of strong commitment that the game's most powerful and influential head coach has to like:
"I'm shutting down the recruiting process," Williams said in March. "I'm not going to visit any other schools. All I'll focus on now is my senior season. I'm also planning to help Alabama recruit."
Finally, the only current non-defensive player on the commitment list is Bo Scarborough of Northridge High School in Tuscaloosa. If you've never seen Bo run, take a minute and watch this:
Bo runs with the kind of fury that's fun to watch. The thought of the 6'2″, 215lb. running back sharing totes with Derrick Henry, Altee Tenpenny, Tyren Jones and Alvin Kamara is unbelievable. When Bama opens the 2015 campaign against Wisconsin in Cowboys Stadium, Scarborough will already be a factor. And, he may just get some touches against West Virginia in the Georgia Dome to open 2014.
Of course, nothing is final until National Signing Day on Wednesday, February 5, 2014, but this Tide staff has proven staying power when it comes to landing and keeping commitments. Despite the efforts of shady recruiters who wear their hats backwards and work for cults, very few flip.

(Follow ITK on Twitter for Bama news, commentary and smack.)