Well, another A-Day is in the books, and another game where "we have more questions than answers" will be analyzed to the point of ridiculous speculation. I can't remember an A-Day where I came away feeling good. Afterall, you've heard the cliches:
If the offense scores a lot of points, does it mean we have a good offense or the defense is bad? What I do know is the last two A-Days looked a lot like today's: a little sloppy, with tons of talent all over the field. In both of the seasons following, Alabama won the BCS National Championship.
What Alabama has is five top five recruiting classes…three of those considered to be tops in the country…stacked one on top of the other, suited up, and running basic looks in front another huge crowd.
A-Day Game Attendance
And yes, the crowd was huge. Compare it to the 28,000 announced at LSU's spring game, and it's huge.
The Birmingham News' Don Kausler, Jr. wants to point out that Saturday's attendance was the second lowest in the Nick Saban era. But only because Kausler is a douche who would do an investigative story on his mother if it'd pay his bills.
I'm sorry, and some may not want to hear this, but when you win three out of the last four BCS National Championships, a scrimmage game doesn't have the same appeal. Is that complacency? Probably so to some degree. But I can assure you, Georgia would've taken it.
The team that was five yards shy of playing for (and probably winning) the national championship managed just 45,113 at their spring game…over 5,000 less than Kentucky. Freaking Kentucky. Even with Manziel mania, Texas A&M only gathered 45,212. The leader, up until Saturday was Nebraska, with 60,174.
Line those numbers beside one another and 78,315 has a different ring to it. Of course the same newspaper wants to be sure we know that Auburn managed 83,401. More on that in a minute.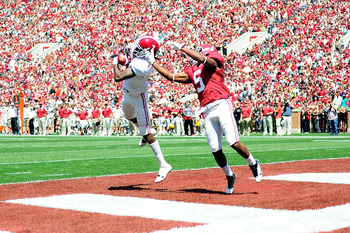 Maybe if Alabama spurns ESPN2's high definition broadcast and goes with College Sports South (CSS) to carry the game, like Auburn…where it looks like you're watching the game through a screen door…more folks will trickle into Bryant-Denny. But just for analysis, let's take Bama's A-Day attendance year-by-year, and examine what was really happening.
2007: 92,138 – the 2nd largest, fresh off Saban's hiring, 1st spring, and years of drought
2008: 78,200 – the misery of the '07 A-Day game crowd control still fresh in the minds of many
2009: 84,050 – a healthy crowd following a season of coming up just short in the SECCG
2010: 91,312 – at the time the 2nd highest crowd following Saban's 1st BCS championship
2011: 92,310 – the largest crowd, following the misery of watching AU cheat their way to the top
2012: 78,536 – the 3rd lowest crowd, weeks removed from owning LSU in the Superdome
2013: 78,315 – the 2nd lowest crowd, weeks removed from Saban's third title in six years
So what does Saturday's "low attendance" mean?
Jack squat.
Every school in America…including Michigan with 18,000 showing for their game…would take our totals. And as the last two seasons have shown, Bama will be in the mix for another title with or without spring game attendance records.
So why was Auburn's attendance so high?
Are you kidding me? Have you been living in a cave? Auburn is and has always been a cult. Cult leaders like Navid Nousel spew propaganda that the throngs of Aubies can't help but slurp up with two straws. Stuff like:
"There's more to Auburn than two oak trees, revered and sturdy as they are," David Housel said. "These oak trees are but an outward visible symbol of the Auburn heart. … This is a day of celebration and remembrance."
So combine the last opportunity to heave anus paper into the two trees that they themselves have been killing for years with the chance to cheer on a new coach on the scene that they believe…no, hope…no, desperately pray…is their savior from the Sabanized Auburn they now have to endure, and you have yourselves a crowd.
And good for them. At $5 a head, maybe they can put the proceeds with the $50,000 "Tide For Toomer's" handed them…money that nobody knows what became of it. It's still a mystery to me that Auburn can't just bring in new trees. Heck, Augusta National does it every year for the Master's.
Or heck, make some realistic looking fake ones. My family has climbed around in the "Swiss Family Robinson" tree at Disneyworld since I was a kid. That tree has stood the test of time…and would stand the test of Spike 80DF as well. But, I digress.
Someone said, if it was the last time we could see Denny Chimes, or the Bryant Museum, or Nick Saban, we'd pile in Bryant-Denny again too. But as I've already pointed out, we did.
If it's one thing Auburn is good at, it's doing something once and thinking they've arrived. Let's check that attendance next spring when the Gus bus misses the bowl season again in 2013.
Speaking of Gus…
Can we remind ourselves something about ole Gus? Auburn fans love to think that the husband of crazy Kristi is their savior. You know, the man that has been a college head coach for only one year.
But is it worthy to note that following that magical 2010 season, when their defense gave up a mind-boggling 337 total points and was rescued by arguably the most dominant SEC quarterback to ever play the game, Gus returned the next season as offensive coordinator? The 2011 results?
7 wins, 5 losses, and a meaningless bowl win over an unranked opponent.
And, the season before Cameron Newton's one and done?
7 wins, 5 losses, and a meaningless bowl win over an unranked opponent.
Show me something Gus and I'll believe. Until then, you're a high school coach running a dipsy-doo, trickeroo offense, and one heck of an opportunist.
So what about the game itself?
Bama is strong at the skill positions…possibly stronger than ever in history. When you can flirt with moving a Christion Jones from receiver to corner, you are freakishly deep at that position.
The quarterbacks, including AJ, made some sloppy mistakes, but at times looked brilliant. I was personally impressed with the delivery of freshman Luke Del Rio. Alec Morris also put some passes on the money, including dropping one on a dime over the linebackers into the hands of a sprinting DeAndrew White. Coach Saban seems encouraged by Blake Sims, though he didn't have his best outting on Saturday.
On the offensive line, there was solid play across the board. But then again, it's extremely hard to tell anything from a spring game because they aren't going to show anything. Said McCarron on his new offensive line:
"We did well. Things are simple [in the spring game]. We don't do any of our protections that we use in the game, so it's just 'base' everything. It's almost really like one-on-one type of stuff. I felt like they did a great job up front controlling our big guys, but we're definitely going to have some work to do in the summer."
Saban seemed satisfied at least to this point as well:
"We need to continue to try to develop more players at that position but I'm pleased with the progress that that group has made."
On defense, the safeties look game ready. Ha Ha Clinton-Dix looks and plays so similar to Mark Barron you'd think he was still in uniform. Vinnie Sunseri's pick six illustrated why so many love his tough, gritty style of play, and Landon Collins made everyone in Crimson happy he spurned his mother's wishes for him to play in Baton Rouge. And all Nick Perry did all day was make play after play after interception after interception.
Corner is another story, but isn't a tragedy by any means. John Fulton didn't see action Saturday, and Geno Smith held his own all day. Deion Belue will battle to take the other corner spot, and the position will be filled in summer camp.
The defensive line and linebacking corp are promising. Ryan Anderson to me looks the part, as does Denzel Devall. CJ Mosely was wearing black, so his contact was limited. And starter Trey DePriest is recovering from foot surgery.
But Mosely's role in this defense suggests that the ever adaptable Nick Saban is already thinking Texas A&M. Bama's linebacking corp and nickel packages suggest a need to excel in lateral speed and play in space. If this is where college football is going, Saban appears to be ready to meet them there…at least on the defensive side of the ball. All of Bama's linebackers can run.
Fat officials, come on…
The good part of Saturday was, there were no significant injuries, of any kind. Unless you count play clock operator Doyle Shaw.
In a scary moment, Landon Collins sprinted down the sidelines following an interception, only to be forced out of bounds into the slow to recede Shaw. And if you saw it, you know. Shaw was hammered. As in, two commercial break hammered. Watching in on the DVR when I got home, it was something to behold.
But that brings up this point. Can we please…please…get anyone slow to move and/or react off the sidelines and to safety? Is there a reason why an overweight man in his sixties needs to be on the sidelines to operate a play clock? Won't a button in the pressbox work as well as one on the sidelines?
If you've never been on the sidelines of a college football game, these men in pads are behemoths. The smallest of the small look gargantuan in person. And they run as fast as horses. If you can't get out of the way, you're going to get killed.
Thank goodness Mr. Shaw did not, but he could have. For the love, get the fat, old people off the sidelines, or put them in those large sumo suits you see at county fairs.
Look, putting them in this get up protects them, and speeds the game up. Thankfully the man is okay, according to reports. But maybe not next time. Come on, SEC. Lead the way. Do the right thing.

(Follow ITK on Twitter for Bama news, commentary and smack.)