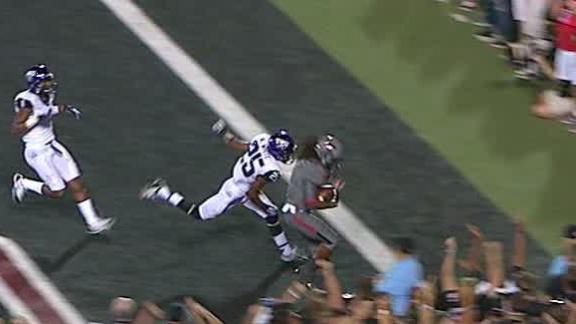 This early in the season there is a game within the game that takes place in college football. One starts measuring who you've beaten and how those teams have fared following your victory over them in hopes of gaining a quick evaluation of where you are this early in the season.
For instance, Alabama struggled with a salty Virginia Tech offense in game one, only to see that team refrain from yielding a single touchdown the week after. Western Carolina was a lesser opponent, but the evaluation was intact.
LSU's marquee opener with TCU may have taken a hit last night, as the 24th ranked TCU Horned Frogs fell to unranked Texas Tech in a 20-10 snore fest. Hear that Tiger fans? The vaunted Texas Tech Red Raider defense only allowed 10 points to the team to which you yielded 27. TCU's lone win on the young season is now over the FCS's Southeastern Louisiana.
Following its pillow fight with TCU, the Bengal Tigers had a cream puff last week in UAB (a 56-17 win), and faces two more cream puffs (Kent State and Auburn) before the showdown with #9 Georgia on September 28.
So will Saturday's hurdle in College Station be the lone, real barrier to the Tide getting back to Atlanta and vying for it's 16th National Championship? It's still too early to say for sure, but so far this young season, that looks to be so.

(Follow me on Twitter for Bama news, commentary and smack.)