Johnny Manziel had little difficulty eluding would be tacklers last season, but the reigning Heisman winner has a much harder time avoiding trouble. And this latest foe may be what knocks him out of the game for good.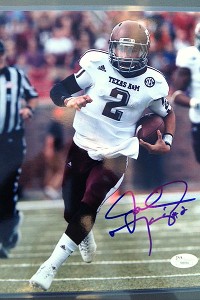 ESPN is reporting that Johnny Football is being investigated by the NCAA for allegedly exchanging hundreds of autographs for thousands of dollars (a five figure sum), a clear violation of the NCAA's policy for its amateur student athletes. That NCAA Bylaw is 12.5.2.1…accepting money for promoting or advertising the commercial sale of a product or service…and if the NCAA investigation finds that Manziel profited from the sale of his signatures, he could be ruled ineligible.
The autographs reportedly came last January when Manziel took in the BCS title game in Miami. Three sources told ESPN's "Outside The Lines" that Manziel signed photographs, footballs, mini football helmets and other items at the request of autograph broker Drew Tieman. Two sources said that Tieman approached Manziel about the possibility on Jan. 6 at Fort Lauderdale-Hollywood International Airport. Following the encounter, three sources said Manziel and his personal assistant Nathan Fitch, visited Tieman's residence and signed hundreds of items despite many other people being in the room at the time. Before Manziel left South Florida, following the title game, he signed hundreds more autographs, one source said.
To gauge the seriousness of the situation, you can usually follow the betting lines. Las Vegas usually has the upper hand on information as it relates to potential issues, and in this case, the Las Vegas Hotel sports books on Sunday night took Texas A&M games against Alabama, Arkansas, Ole Miss, LSU and Missouri off the board.
Athletes being asked for their signatures on items is obviously not uncommon, and many of those items eventually wind up on eBay. But the amount of Johnny Football product that flooded the memorabilia market overall following the BCS title game was overwhelming, memorabilia dealers told "Outside the Lines." Two of the leading autograph authentication companies, PSA/DNA and JSA, have authenticated many of the items. Officials with both companies told ESPN that they guarantee the signatures, some with inscriptions like "Gig 'Em" and "Heisman '12". Online verification databases show a single lot of 999 signed Manziel photos numbered sequentially. JSA authenticated 248 items and 376 items that came in in two batches that also are numbered sequentially. Insiders say this indicates the signings were done in large quantities intended for wholesale.
We've seen the NCAA screw up investigations before, and nothing is ever a slam dunk with the NCAA. Cam Newton's father admitted openly to the NCAA that he shopped his son to Mississippi State for the sum of $200,000, yet the governing organization accepted his word that despite standing to gain an enormous profit elsewhere, somehow the greedy father elected to let Cam go to Auburn for nothing, having never stepped a foot on campus prior. Oh, and Cam knew nothing about the arrangement. Riiight.
But this situation appears more difficult for the tip-toe artist to wiggle out of unscathed. An issue much bigger than just attention seeking Tweets, or news of being kicked out of frat parties…or worse yet, the Manning Quarterback Camp… this one may grant Johnny Football his wish, as cited from one of his earliest scathing Tweets: "To get out of College Station."

(Follow ITK on Twitter for Bama news, commentary and smack.)