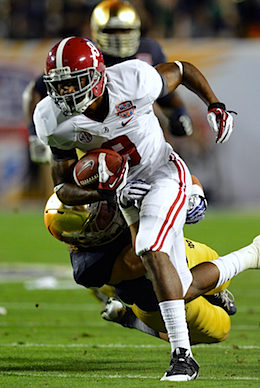 Today is part three of our football preview. Check out part one of our Alabama Football Preview 2013. Today we look at the receiver situation and the role of standout Amari Cooper.
The 2013 Crimson Tide offense is deep at receiver to say the least. This season Bama will showcase 10 wide receivers, including two seniors (Kenny Bell and Kevin Norwood), two juniors (Christion Jones and DeAndrew White), two sophomores (Amari Cooper and Cyrus Jones), and four freshmen (Chris Black, Raheem Falkins, Robert Foster, and ArDarius Stewart).
It's been ages since a receiver won the Heisman Trophy, but Alabama's Amari Cooper may give hope to the belief that Alabama will be home to not two contenders for the prize (A.J. McCarron and T.J. Yeldon), but three.
In his freshman year, Cooper, set records with 50+ catches, 1,000+ receiving yards and 11 touchdowns, a feat unmatched by any receiver in the modern era in Tuscaloosa.
Cooper should be the target of many a defensive game plan throughout the 2013 season, getting the same double-team treatment that Julio Jones received. But the beauty of Amari Cooper isn't Amari Cooper, but the bevy of other receivers that flank him.
Kenny Bell has made a living with the deep ball. Kevin Norwood tends to get overlooked, but has been the source of many an LSU fan's nightmare. Christion Jones' hands are made of industrial grade flypaper, and moves like a fart in a whirlwind. Erase any of the aforementioned and DeAndrew White becomes one of the 2-3 most talented receivers Bama has had in over a decade. Then there's talk of Chris Black, sidelined early by injury last season, being the best of the lot. And Falkins, Foster and Stewart could start for half the SEC right now.
Simply put, this receiving corps has the kind of talent that could've made former Bama quarterback (and transfer) Jimmy Barnes look like a gun slinger.
It's easy to understand how important this year's wide receiver group will be to the success of this Alabama team. Take away the 6 touchdown passes thrown to running backs and tight ends last season, and McCarron still would have broken the Alabama school record for touchdown passes in a season with the remaining pair he threw to his wide receivers.
This speaks volumes of McCarron as a quarterback and the chemistry he has with his receivers. The biggest question this season: hHow will this bunch fare over the course of the season together, and can they stay healthy? And, will McCarron's new line provide the time needed to destroy opponents through the air?
Regardless, if Bama makes it to Pasadena for the final BCS National Championship game, it'll be in part because Bama found great success in the hands of an unreal group of receivers.
Submitted by guest writer, Joshua Smith