Much has been said about Johnny-Come-Lately, er, Johnny Football. Pictures surfaced last week of the Texas A&M quarterback dressed up like Scooby-Doo at a Halloween party. And tomorrow at 2:30 in Bryant-Denny Stadium you might hear the freshman QB uttering "Ruh-Roh!"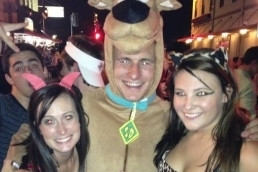 The Aggies have been the most impressive among the two SEC newcomers this inaugural season, the welcome surprise being the phenomenal play of their freshman quarterback Johnny Manziel.
Yes, he is electrifying. Yes, he is fast. Yes, he can throw. But yes, when he suits up in Tuscaloosa tomorrow, he'll be facing the greatest test in his entire life as a football player, at their place, with their championship aspirations on the line.
Never before…hear me…never before has he faced the likes of what he is about to see on the playing surface inside Bryant-Denny Stadium.
Texas A&M is a good opponent, and in my opinion an outstanding addition to the SEC. And I really like Kevin Sumlin, one of the better coaches in the game today.
But future matchups will be more imposing to the well-being of the Crimson Tide's season than this one. Why? The analysis isn't that hard:
The Aggies are 7-2:
9/08 – lost to Florida at home, 20-17 (their second toughest foe to date)
9/15 – won at SMU, 48-3 (wow, SMU)
9/22 – beat South Carolina State, 70-14 (didn't know they had a team)
9/29 – beat Arkansas at home, 58-10 (at the height of the Hogs' early season funk)
10/06 – won at Ole Miss, 30-27 (the week after Bama crushed their hopes, and team)
10/13 – won at LaTech, 59-57 (A 2-pt. shoot out win…forgetting they weren't in the Big 12 anymore.)
10/20 – lost to LSU at home, 24-19 (their toughest foe to date)
10/27 – won at Auburn, 63-21 (doing what virtually any team can do)
11/03 – won at Missy State, 38-13 (the week after Bama crushed their beliefs)
So to their two toughest foes this season, playing at home, they lost. And their two most impressive wins (the Mississippi schools) they defeated after these teams were beaten up by Bama. And now they get the Tide, on the road, in front of 101,000+, in the spotlight, with Bama championships on the line, led by a freshman quarterback against Nick Freaking Saban and five years worth of top five recruits.
Sorry Aggie fans, this one ain't gonna happen for ya. Please don't take it personally, like Mississippi State fans did a few weeks ago (and what a weird few days THAT was).
The biggest factor tomorrow will be where Alabama is mentally after last Saturday night's win in Baton Rouge. That game was a slobber-knocker, and like Bama I predict LSU will come out a little flat against Mississippi State.
But Alabama will not face any real trouble in putting the Aggies away in the 2nd half, winning the SEC West and returning to Atlanta for a date with (likely) Georgia. Look for Manziel to make some good plays. But don't look for it to matter.
Alabama 38
Texas A&M 14
There will be better days for the Aggies in the SEC. But unfortunately for the Gig'em Nation, they won't start tomorrow.

(Follow me on Twitter for Bama news, commentary and smack.)