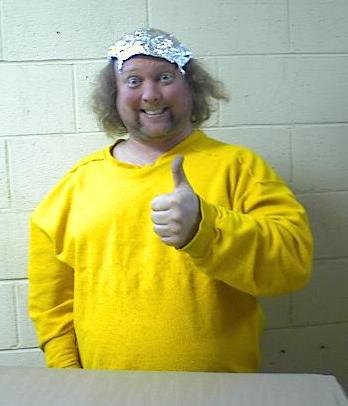 Photo via: Tin Foil Hat Guide
Auburn propagandist Phillip Marshall just blamed the whole Cameron Newton recruiting mess on a vast right-wing conspiracy, or the Red Elephant Club's mind control rays or some cabal between the Stonecutters, the CIA and Castro.
Did you know Alabama Crimson Tide coach Nick Saban is a member of the West Virginia chapter of the Illuminati?
Well Phillip Marshall and Auburn Undercover know!
And Marshall is hot on the trail to expose all the nefarious forces seeking to harm Auburn. Today's column exposes it for all the Family to see.
According to Marshall, "That there is an orchestrated campaign to bring down Auburn football is no longer in doubt. The drip, drip, drip of information being given to national news outlets isn't happening by accident. … More is probably coming… I don't claim to know who is behind all this, although it's pretty clear that Alabama and Mississippi State boosters are involved on some level. It's also clear Mississippi State coach Dan Mullen, whose feelings were hurt when Newton went to Auburn, is enjoying this immensely."
Alabama boosters? Really?
Are you just making shit up and throwing it against the wall. Like you accused reputable media outlets like the New York Times, ESPN, etc.? Just trying to make yourself feel better? Or do you really believe that Alabama Crimson Tide coach Nick Saban, Dan Mullen and Urban Meyer are all actively orchestrating a campaign to destroy your beloved Auburn Tigers?
Would Nick Saban even have time for that shit? Or your shitty program?
I'm blaming the Stonecutters. They control the British Crown, and keep the metric system down. They rig every Oscar night. So, yeah, Stonecutters are evil. Evil!