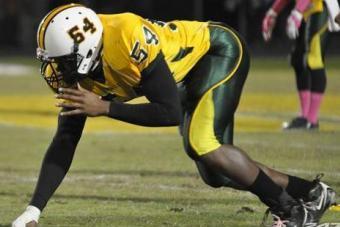 The country's top prep propsect, according to Rivals, announced today he would be playing his college days for Nick Saban and the Alabama Crimson Tide.
Da'Shawn Hand, a 6'4″, 248lb. defensive end from Woodbridge, VA picked the Tide over other finalists Michigan and Florida.
Hand joins offensive lineman Cameron Robinson of West Monroe, LA giving Alabama two five-star prospects in the 2014 class. And, evidence that the rich are just getting richer, 18 of the Tide's 23 overall commits are in the ESPN 300 rankings.
Said the super senior about Alabama:
"The campus life is amazing," Hand said. "I know half the team already. The coaching staff is amazing. Why not go where it's a great possibility you could win a national championship?
"When I took my visit, I took two visits. I got to see what the campus life is outside of football season as well as my official. I saw how the gameday atmosphere is, the culture. They have a winning tradition. They don't lie to you. I know when I go in, I won't be No. 1 on the depth chart."
Nick Saban is once again recruiting his expletive off, securing the foundation for Alabama's already unreal talent pool. Further evidence, obviously, that he's going to Texas.
(Recruiting Update contributor: ITK)